Southwest Village of RidgeGate East in Lone Tree, CO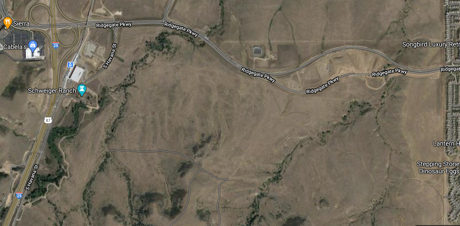 February 15, 2022: The first phase of the Southwest Village area is called Lyric at RidgeGate and is now under construction. If all goes as planned, home sales here will start in the summer of 2023.
The Lone Tree City Council approved on December 15, 2020, the preliminary plan for Southwest Village in RidgeGate East. Southwest Village is a 699-acre parcel of the 3,500-acre RidgeGate development located east of South Havana Street and south of RidgeGate Parkway. The preliminary plan includes 2,100 dwelling units with for-sale condominiums, townhomes, and single-family homes. The area will feature almost 30 acres of neighborhood parks, an 80-acre regional park, and a school site. Miles of trails will connect to the Douglas County East/West Trail and Rueter-Hess Reservoir trail system with its incline challenge hill. Shea Homes will be the master developer.
Beginning in 2021, the area will be constructed in five phases over the next several years. The City of Lone Tree has invested over the last twenty years in infrastructure and regional projects to support growth on the east side. The city has made a major commitment to RidgeGate by their investment in such things as the widening of I-25, the light rail extension and the construction of RidgeGate Parkway.
The Southwest Village preliminary plan calls for 1,122 detached single family homes, 104 tracts for open space, infrastructure for attached single family homes and commercial sites.
On the nature side of the community, there are over 1,200 acres dedicated to preserved open space. Residents can enjoy numerous parks, walking and hiking trails, and catch glimpses of local wildlife with the breathtaking views of the Colorado Rockies in the distance. Approximately 10 miles of trails and paths are in RidgeGate now, and up to 50 miles will be available in the future.