RidgeGate is rising in the east as shown on the below map. Three diverse residential villages and two mixed-use districts will be created on the east side of I-25 in RidgeGate East. The first to be developed is Lyric at RidgeGate and is now under construction. Home sales should start in late summer of 2022. The next to develop will be Central Village and Southwest Village. All three are within walking distance to the future Lone Tree City Center, the Lincoln Avenue Commercial District and the mixed-use Village Center which will include civic amenities, retail, and restaurants. The Lone Tree City Center is a 400 acre mixed use district. It is said that the center will be marketed as Lone Tree's new downtown. It is expected to span 32 city blocks.
Shea Homes is the master homebuilder of the upcoming Lyric community. Shea, along with other select homebuilders, will be building approximately 1,900 homes near the RTD RidgeGate Station.
Lyric will be built over five phases and will include single family detached homes, condos, townhomes, and and patio homes. Styles and types of homes will be varied from neighborhood to neighborhood, and sometimes within each block.
Lyric is the first major development on the eastern side of RidgeGate, a 3,500 acre mixed-use community and based on a bizjournals.com report will eventually include 15 million square feet of office, retail and medical space, 10,000 homes and more than 1,000 acres of open space upon full buildout.
It was announced in October 2021 that RidgeGate has partnered with Quantum Fiber to deliver gigabit internet. Upon Lyric homeowners moving into their new home, Quantum Fiber's robust Wi-Fi speeds will be there and activated.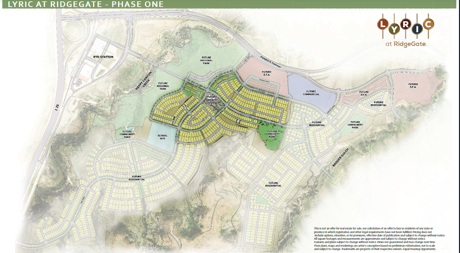 J. Garland Thurman your RidgeGate Realtor in Lone Tree, CO!