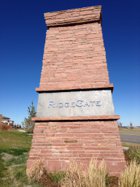 The buildout of RidgeGate on the west side of I-25 is not complete, but it is getting close. The developer, Coventry Development Corp is focusing now on continuing the development of RidgeGate on the east side if I-25. The total acreage of the east and west sides is 3,500 acres. Big name companies have chosen regional headquarters in RidgeGate of Lone Tree, Colorado. Charles Schwab has a large office park in the west area of RidgeGate. Kiewit Construction has planned facilities in RidgeGate East which 2,200 acres.
Construction of the infrastructure projects is well underway to support office, retail, health-care space and new homes. Shea Homes has been selected as the builder of the residential homes. Construction of homes is expected to begin in 2020 with delivery in mid-2021.
Another exciting development at RidgeGate East is the 400 acres of urban mixed use district for the Lone Tree City Center being billed as Lone Tree's new downtown. It is said this area will span 32 blocks and will be home to 5,000 to 6,000 residents.