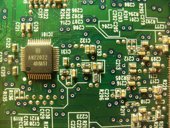 OneNeck IT Solutions is settling in Douglas County after having been given several tax incentives by the county. Terry Swanson, Vice President of OneNeck IT Solution, praised the county for giving the company tax and construction incentives amongst others.
The area is a great location for a new data center says Swanson, because it links the company, which is based in Chicago, to the Midwest and Phoenix. Denver ranks 8th place amongst the most attractive places for data centers according to Swanson, which makes it more enticing than locations such as New York, Dallas, and Chicago.
The data center is located near Peoria Street and County Line Road at 8675 Concord Center Drive. It strikes with its modern architecture and technology, such as retina scanner for door entry, 15 inch walls and a concrete roof.