The City of Lone Tree has announced its 2017 dates for the FREE Summer Concerts in beautiful Sweetwater Park. This year's dates are June 17th and August 12th from 6-9pm.
NEW ORLEANS SUSPECTS - Saturday, June 17th - 6-9pm
The New Orleans Suspects create their own unique mix of R&B, zydeco, funk and jazz that can only be described as music for all to enjoy. Head down to the park to enjoy a night filled with music, food trucks, and an activity and craft corner for the young ones!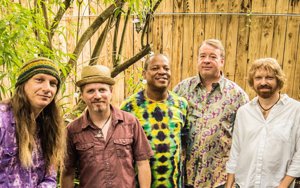 THE BAND OF HEATHENS - Saturday, August 12th - 6-9pm
Enjoy the final days of summer with The Band of Heathens, a group of high energy rockers that are best described as true Americana mixed with folk, country, jam-rock and blues. Grab a blanket or chair and your loved ones and head on down for an evening of music and the 3rd annual Street Food Soiree. This competition brings some of Denver Metro's best food trucks to Lone Tree to battle it out – come sample and vote alongside celebrity judges! There will also be an activity and craft corner for the young ones.
Check the City of Lone Tree's website for updated information.
http://www.cityoflonetree.com/cms/one.aspx?pageId=1606278
FREQUENTLY ASKED QUESTIONS
Parking Information:
Lone Tree Civic Center
This parking lot is closed to the general public for the event. This parking lot is designated in the event that Emergency Response is implemented, including evacuation of the park. Access to this parking lot is permitted only to event operations personnel. Parking in this area may result in your car being towed.
Lone Tree Library
Parking lot opens at 5:00 pm. Handicap parking is available.
Cook Creek Pool*
Parking lot opens at 6:00 pm for Event Parking. There is no parking for event attendees in this parking lot before 6:00 pm. Handicap parking is available.
*NO PARKING AT COOK CREEK POOL ON SATURDAY, JUNE 17TH
Treo Parking Lot
Located on 9070 Maximus Drive, Lone Tree. Located off Yosemite Street, Lone Tree.
Handicap parking is available.
Street Parking
Residential street parking is permitted in Lone Tree and Acres Green. Please consider residents and ensure you do not impact access to their residence.
Parking illegally may potentially result in your car being towed and/or incur a citation. City of Lone Tree Police Department will be patrolling residential streets.
Handicap parking is available on the west side of Sweetwater Road, from Lodgepole Trail and Big Horn Court. This area is signed as Handicap Parking.
What to Bring:
· Sunscreen/hat
· Lawn chairs (no high-back lawn chairs are permitted between the sound booth and the stage)
· Tarps and blankets (no bigger than 5' X 8'. Please share your tarp when you're not using it)
· Coolers and unopened plastic water/soda bottles and cans (coolers will be searched if need be)
· Camera (no professional photo equipment allowed)
· Stroller's and baby packs are allowed
· Rain Gear (event goes on rain or shine)
· Alcohol in plastic bottles or cans is permitted
What NOT to Bring:
· No glass in the park
· No smoking in the park
· No illegal drugs
· No unlicensed vending
· No professional photo equipment, video cameras or video recording equipment
· No dogs of any kind
· No tents of any kind
What will be available onsite?
· Food Trucks - food and non-alcoholic beverages
· Port-a-potties and handicap access
· Hand sinks
· Trash and Recycling Stations
· Lost and Found (located at the City of Lone Tree Tent)
If you are interested in being a vendor or a sponsor of this event, please contact Allissa Dailey at Allissa.Dailey@cityoflonetree.com.