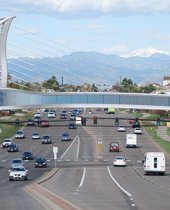 On April 19 the Lone Tree City Council voted on Site Improvement Plans for the Regional Transportation District's extension of the E Line light rail south of Lincoln Station. Lucky for Lone Tree residents, the motion was approved and the construction is planned to begin this spring.
Because of inconveniences at other stations in Lone Tree, the city council agreed it needed to take some action.
$7.3 million were raised by the City of Lone Tree, the Rampart Range Metropolitan District and Douglas County to get the construction started. Additionally, the Southeast public Improvement Metropolitan District is donating $3 million.
The Improvements are estimated to be completed by 2019. According to RTD, the complete cost is expected to be $207 million which will be $90 million per mile.