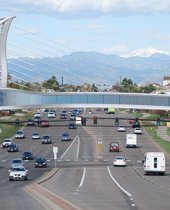 Final agreements for Lone Tree pedestrian bridge: sixty different entities agreed to help finance the construction of the bridge at Lincoln Avenue by the Heritage Hills intersection with donations.
It is estimated to accommodate about 170 crossings per day and should help with pedestrian safety by preventing jaywalking according to the Lone Tree Department of Public Works. Traffic flow should be improved, too.
The $7 million bridge will be built by Hamon Infrastructure, a general contractor specialized in road and bridge projects.
$3.465 will be donated by the City of Lone Tree who will also be in charge of maintenance once the bridge is completed in March 2017. The remaining money will be contributed by the other six entities. Construction is planned to begin in August 2016.