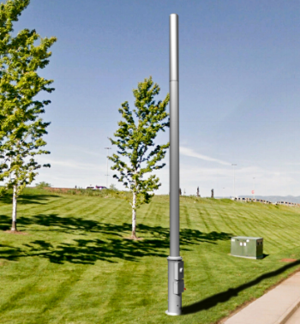 In Lone Tree, CO a recent law was passed by Colorado Legislature allowing the installment of small cell wireless facilities. With the increase of our daily use of cell phones and being able to be virtually anywhere, this is some exciting news!
These small cell wireless facilities are low-powered antennas that will provide cellular and data coverage to smaller areas. These will be unlike the large cell towers you may have seen, they are meant to be smaller, less intrusive and blend well into the background.
Photo From City of Lone Tree
Wireless providers want to expand their networks because the demand for mobile data has not slowed. Smartphone data traffic in North America has more than double between 2016 and 2018 and is expected to double again between 2018 and 2020 according to City of Lone Tree News.
Almost all of the traditional wireless communication providers are proposing new wireless facilities in Lone Tree. This includes Verizon Wireless, Sprint,AT&T Wireless and T-Mobile. There are also some third-parties that have shown interest as well such as Mobilitie, Zayo and Crown Castle.
When the Colorado State Legislature passed this new law requiring all cities, towns and counties in Colorado to accommodate wireless communications facilities in the public right-of-way. This is just like we allow gas, electric, water and sewer utilities. The city has established design guidelines that can guide color and height, Lone Tree cannot prohibit a wireless provider from locating new poles along the streets.
The City of Lone Tree has worked with other municipalities in the Denver area to establish design guidelines that will minimize the visual impact. Depending on the location they could look like a flag pole or a traffic light. Some existing street lights or traffic signals may be spots already in place for attaching these new wireless facilities.