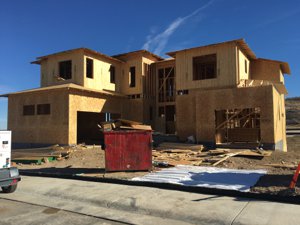 According to the latest Denver Metro Real Estate Market Trends Report, homes sales and prices in 2017 in metro Denver have once again hit record highs although the pace of prices seemed to slow as the market reached a higher altitude. There was a record set for the number of single-family homes and condos sold across metro Denver last year. 57,788 homes and condos sold last year, that is 2.93% from 2016. That is 1,726 more single-family homes and condos sold from the record breaking 56,062 in 2015.
The average price of a single-family home had an increase of 8.7% from 2016 landing at $480,140. The median sold price of single-family homes had an increase of 7.9% from 2016 making it $410,000. The average price of a condominium raised even more so from that of the single-family homes, up 10% from the previous year, making the average $318,904. Shockingly, the median is up even more from the average on condos. There was an increase of 12.15% from 2016 causing the median to be $270,000 in 2017.
Referring to the DMAR Report, the total sales volume has been increased more than previous years. In 2015 it was $20.3 billion, 2016 was $22.2 billion. in 2017 the total sales volume was over 25 billion. The total sales volume and increase over the years is due to the risings prices and the increase of sales. Comparatively, the total sales volume in 2011 was 9.9 billion. This tells you how much the market has changed in the last 6 years!
Steve Danyliw, chairman of DMAR's Market Trends Committee states "The lack of active listings should concern us all, only time will tell if more sellers will choose to stay in their current homes, afraid that they won't find a replacement." The inventory shortage is a key factor that is continuing to push prices higher. There were only 3,854 homes on the market in the end of the year, this is a record low with a metro area of 3 million residents. Before last year, the average available homes at years end from 1985 to 2016 was 13,702.
Inventory shortage is going to continue to be a problem but there are areas that are having plans to expand and build more. One of those areas is known as The Retreat at RidgeGate, located in Lone Tree Colorado. The picture above shows that they have started breaking ground for this new sub-area of RidgeGate in Lone Tree.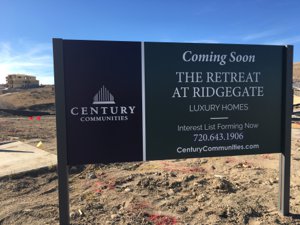 Jim Smith, owner of Golden Real Estate in Golden CO, explains that a contributing factor to the low inventory may be that many homes already have buyers lined up before they hit the market. He goes on to explain that 2,778 homes that sold last year went under contract with zero days on the market as well as 1,880 sold after just one day on the market.
Steve Danyliw predicts that the trend of double-digit price increases, from previous years like 2015 and 2016, might be a thing of the past as prices continue to climb and push more potential buyers out of the market. Although any kind of slowing would work in favor of buyers.
Click here to read the whole Denver Metro Real Estate Market Trends Report.