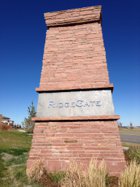 New Town Builders, one of the top builders in the greater Denver area, is building a new townhome community southeast of Commons Street and Sky Ridge Avenue. Having been awarded with the Innovation in Housing Award two years in a row it does not surprise that these new homes all a certified 'Zero Energy Ready' by the Department of Energy
The new homes will two to three story rowhomes which will feature a variety of high quality materials. Some of the features include granite countertops, stainless steel appliances, Metropolitan Oak Umber hardwood floors in the entry way and kitchen, and 13" x 13" tiles in both the bathrooms and laundry. The new homes will also feature an attached garage and up to four bedrooms. All new homes will start in mid $300s.
New Town Builders is currently building 57 townhomes on 3.45 acres and construction is expected to be complete in late 2015.