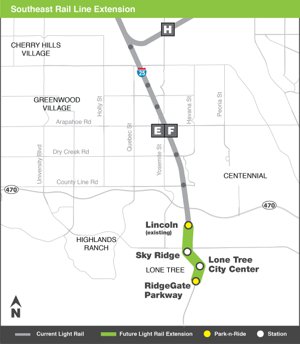 Construction is underway on the Southeast Light Rail Extension Project.
The Southeast Rail Extension is part of RTD's plan to expand transit across the Denver metro region. The extension will expand the Southeast Rail Line from Lincoln Station to RidgeGate Parkway in Lone Tree – a total of 2.3 miles. The expansion includes three new stations:
1.

     

A Kiss-n-Ride at Sky Ridge Avenue near Sky Ridge Medical Center
   2.     A Kiss-n-Ride at the future Lone Tree City Center
   3.     And a 1,300-space Park-n-Ride at RidgeGate Parkway
The 2.3 mile extension also includes a 5-span, 620-foot-long bridge over Lincoln Avenue; an 11-span, 1,397-foot-long bridge over I-25 and a 4-span, 506-footlong bridge over RidgeGate Parkway.
Completion is currently scheduled for 2019.